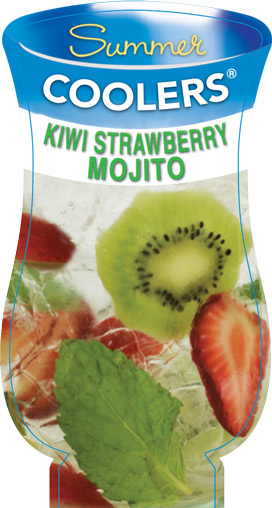 Mentha pip.
The beautiful crinkly bright green leaves of Strawberry Mint bring the aroma and taste of strawberries to drinks and desserts.  Rub a leaf of this easy to grow herb and enjoy the strong smell of strawberry.  The compact size of this unusual variety works well in containers and hanging baskets as well as the landscape.  Like all mints it is perennial and spreads by runners, so plant where it cannot invade other plants, or give it a large container of its own. The wonderfully scented small green leaves are topped with clusters of lilac flowers that attract bees and butterflies. 
Perennial. Hardy Zones 5-9
Chef Jeff's Kiwi Strawberry Mojito Cooler recipe:
4 fresh Strawberries sliced
1 kiwi fruit peeled and sliced
4 sprigs strawberry mint
1 tbs superfine sugar
1½ ounces white rum
2 tsp lime juice
Crushed Ice.
Club Soda or Sparkling water.

In a tall glass crush or muddle strawberries, kiwi, sugar and strawberry mint. Fill glass halfway with crushed ice, add rum and lime juice. Fill glass with club soda or sparkling water, if desired garnush with strawberry mint, kiwi and strawberry fruit slices.
Sun to Part Shade
Height 15-18"