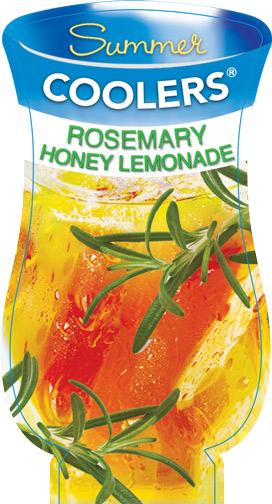 Rosemarinus officinalis
Rosemary has aromatic, bluish-green, shrubby foliage and edible blue flowers that bloom in summer.  The rosemary sprigs are perfect in herbal teas and iced drinks.  Try the recipe below for a refreshing summertime lemonade with the full flavor of rosemary and the fruity sour taste of lemons.  Plant this easy to grow annual in containers in full rich, well-drained soil.  Wash sprigs before use.
Chef Jeff's Rosemary Honey Lemonade Recipe
4 Cups water
6 sprigs fresh rosemary
¾ cup honey
½ cup freshly squeezed lemon juice (about 3 lemons)
Bring water to a boil, and then simmer.  Add rosemary sprigs, cover and steep for 45 minutes then remove and strain rosemary sprigs.  Add honey; stir, set aside to cool.  Add lemon juice to mixture and stir.  Sweeten to taste with additional honey.  Refrigerate until cold.
Full Sun
Height 30"
Spread 30"