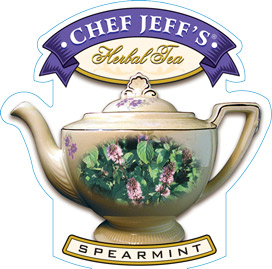 Melissa officinalis. 
This aromatic herb has bright green, toothed, spreading foliage and edible, purple flowers in summer.  Used in jellies, sauces for lamb dishes, herbal teas and iced drinks. Plant in rich, moist soil. Hardy to Zone 3

It's easy to make herbal tea and the flavor combinations are endless. Mix several herbs together for your own special blend or stick with your favorite herb. Tear 1 to 2 tablespoons of fresh leaves into pieces and place in a teapot. Pour boiling water over herbs; gently bruise herbs with back of spoon to release the oils. Let steep for 5-10 minutes, strain, pour, sweeten and enjoy.
Sun to Part Shade
Height 18-24"
Spread 24-36+"